SPONSORS & CRO's
Therapeutic Depth & Scale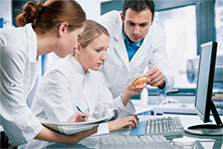 The LMG clinical research network partners with experienced investigators who are dedicated to the success of the research projects that they support. The LMG staff applies their extensive and varied clinical, research, and business experience to the medical care and education of each patient.
Experienced Professionals: Employees trained in FDA regulations and ICH-GCP guidelines:
Multi-specialty Investigators, Nurse Practitioners & Registered Nurse
Trained study Coordinators and Research Associates
Phase II-IV studies
Outpatient/Special Populations
Therapeutic Areas: Physicians specializing in:
Family Practice (Hypertension, Diabetes, Hypercholesterolemia)
Internal Medicine (Arthritis, Diabetes, Hyperlipidemia, Hypertension)
Nephrology (Renal Disease, Dialysis)
Gastroenterology & Hepatology ( Chronic Constipation, Inflammatory Bowel Disease,Gastritis & Peptic Ulcer disease, Liver Disease & Hepatitis )
OB/Gyn & Women's Health (Menopause, Female Sexual Dysfunction, Hormone Replacement Therapy, Uterine Fibroids, Incontinence, Menorrhagia, Dysmenorrhea)
Endocrine and Metabolism (NIDDM, IDDM, Diabetic Neuropathy, Obesity, Hypothyroidism, Hyperlipidemia)
Pulmonology (COPD, Asthma, Chronic Bronchitis)
Musculoskeletal (Osteoarthritis, Gout, Osteoporosis)
Vascular Disease (Peripheral Vascular Disease, Carotid stenosis)
Patient Demographics : LMG and their participating investigators have access to a diverse patient population in the Metro DC area and the counties of Arlington, Alexandria, Fairfax, Loudoun and Prince William which collectively account for a population of over 8.25 million (2013).
In addition LMG Investigators collectively have
A fully mined database containing nearly 500,000 patients
A well-established network of physician referrals
Advertisements across multiple counties
Related Items
Active Therapeutic Areas: