ACTIVE CLINICAL TRIALS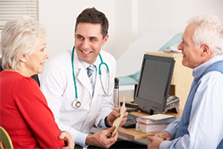 Since the physicians & practices in the LMG network encompass such a wide spectrum of disease specialties, there is always a clinical trial currently underway at any given moment. The best way to remain constantly notified about emerging study opportunities would be to enroll in our LMG Trial Notification Registry. A complete list of disease states with active trials being conducted by LMG can be found here.
Diabetes, Cholesterol & Lipid disorders, Metabolic disorders, Gout, Kidney disease, Cardiovascular disease including Coronary artery disease and Heart attacks, Strokes, Peripheral vascular disease, Arthritis and Osteoporosis, Neuropathic and neurological conditions, Gastrointestinal disorders including Liver disease, Emphysema, Chronic Lung disease and other Pulmonary disorders, Men's Health and Urological conditions, Women's Health, and Vaccine studies.
Please click here to learn about current opportunities and how you can participate.
Active Therapeutic Areas: